Dr. Madeleine Korbel Albright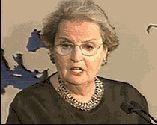 US Secretary of State

Dr. Madeleine Korbel Albright was nominated by President Clinton on December 5, 1996 as Secretary of State. After being unanimously confirmed by the U.S. Senate, she was sworn in as the 64th Secretary of State on January 23, 1997. Secretary Albright is the first female secretary of state and the highest-ranking woman in the U.S. government.
Prior to her appointment, Secretary Albright served as the United States Permanent Representative to the United Nations (presenting her credentials at the UN on February 6, 1993) and as a member of President Clinton's Cabinet and National Security Council.
Secretary Albright formerly was the President of the Center for National Policy. The Center is a non-profit research organization formed in 1981 by representatives from government, industry, labor and education. Its mandate is to promote the study and discussion of domestic and international issues.
As a Research Professor of International Affairs and Director of Women in Foreign Service Program at Georgetown University's School of Foreign Service, she taught undergraduate and graduate courses in international affairs, U.S. foreign policy, Russian foreign policy, and Central and Eastern European politics, and was responsible for developing and implementing programs designed to enhance women's professional opportunities in international affairs. From 1981 to 1982, Secretary Albright was awarded a fellowship at the Woodrow Wilson International Center for Scholars at the Smithsonian following an international competition in which she wrote about the role of the press in political changes in Poland during the early 1980's. She also served as a Senior Fellow in Soviet and Eastern European Affairs at the Center for Strategic and International Studies, conducting research in developments and trends in the Soviet Union and Eastern Europe. From 1978-1981, Secretary Albright was a staff member on the National Security Council, as well as a White House staff member, where she was responsible for foreign policy legislation. From 1976-1978, she served as Chief Legislative Assistant to Senator Edmund S. Muskie.
Awarded a BA from Wellesley College with honors in Political Science, she studied at the School of Advanced International Studies at Johns Hopkins University, received a Certificate from the Russian Institute at Columbia University, and her Masters and Doctorate from Columbia University's Department of Public Law and Government.
Secretary Albright is fluent in French and Czech, with good speaking and reading abilities in Russian and Polish. Selected writings include Poland, the Role of the Press in Political Change (New York: Praeger with the Center for Strategic and International Studies, Georgetown University, Washington D.C. 1983); The Role of the Press in Political Change: Czechoslovakia 1968 (Ph.D. Dissertation, Columbia University 1976); and The Soviet Diplomatic Service: Profile of an Elite (Master's Thesis, Columbia University 1968). Secretary Albright has three daughters.

Dr. Madeleine Korbel Albright
"This is the new -- the war, the battles of the end of this century and the beginning of the next one. This country when we put our mind to it, whether it was the first World War or the second World War or the Cold War we have an enemy. The enemy are the terrorists who do not believe in what we do, open societies and freedom. Who are out to kill plain innocent people and we have to understand that this is a sustained effort."
"Identifying, monitoring and defeating international terrorism is a more challenging task today because of their diverse character, organization, and motivation."
"We stand for freedom and the rule of law and democracy."
"...What we have to do here is to exert our will and make clear when the United States is attacked, when our people are taken out, we will stand out unilaterally in self-defense and really let the world know what we believe in."
From An interview with the CNN/ Larry King Show

"They died in silence for humanity has closed its ears to their cry."
Gibran Khalil Gibran